---
CEA State of the Detroit River

Boat Tour 2017

Saturday July 8, Noon - 4pm, Rain or Shine

Includes Lunch and Narrated Tour

$35 CAN/ $30 US
Expert narration about the Detroit Riverís environmental hot spots and unique fish and wildlife habitats. This is an excellent opportunity to see why we must continue to value this special river and do what we can to protect it.
SOLD OUT - Sorry, tickets no longer available
Thanks for the sponsorship provided by:

---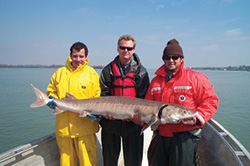 7th Annual Detroit River Evening
June 21, 2017 6:30pm - 9pm
Windsor Yacht Club, 9000 Rivewrside Dr. E.
Free event - Registration required
Join the Detroit River Canadian Cleanup for their 7th annual Detroit River Evening! The Detroit River Evening is an annual celebration of the important projects that were completed over the past year to restore, enhance, and protect the Detroit River and its watershed.
This year, you are invited to learn about the icreasing Lake Sturgeon population and other Detroit River restoration projects. Special guest Marty Gervais - Telling Stories from the River". View flyer.
Space is limited so REGISTER NOW! For more info: postmaster@detroitriver.ca or 519 776-5209 ext 356.
---
Fermi 3 Website

Check out the website of the international coalition to stop Fermi 3.
---
Ojibway Website

A website dedicated to protecting the integrity of the Ojibway Complex. Check it out.
---