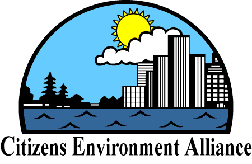 October 27, 1998
FOR IMMEDIATE RELEASE
Environmental Groups Unite To Save Marshfield Woods
Windsor, Ontario - A coalition of concerned groups and local residents has been formed to save Marshfield Woods from development. Marshfield Woods is a 194 acre wooded lot, in Colchester South, that is environmentally significant and, in the opinion of the Essex Region Conservation Authority, qualifies as a Significant Woodland under the Ontario Provincial Policy Statement on Natural Heritage.
The coalition includes organizations, such as: the Citizens' Environment Alliance; the Essex County Field Naturalists; Project Green; the Little River Enhancement Group, CAW Windsor Regional Environment Council and Essex County Medical Society.
The coalition has prepared arguments, which will be presented at an upcoming Colchester South Council meeting on November 3, 1998. At this crucial meeting council will decide whether to grant permission to build a golf course on this site.
Besides emphasizing the importance of preserving natural areas, the coalition will point out a number of problems with the overall process concerning the developer's application, which includes the following:
There are questions concerning one council member with property for sale in an area adjacent to Marshfield Woods who may have failed to publicly declare a "conflict of interest".
Not all of the preliminary studies concerning the development of this new golf course have been made available to the public. The public has the "Right to Know" and the developer must be held accountable.
A complete and up-to-date environmental assessment is lacking. We need a thorough study to understand the complex communities within Marshfield Woods and their function; and the impact a golf course would have on these communities.
We also need to focus on impacts outside Marshfield Woods, including the effects on groundwater, air quality, and the water quality of both Cedar Creek and Lake Erie. There is no study that addresses the potential, negative impacts from the use of pesticides.
The use of certain words by the proponents is debatable. From questioning the exact meaning of "rare" and that a golf course would actually "enhance" these woods; to the over-inflated prospects of employment, this process has lacked straight-forward dialogue.
There are complaints from local residents, who argue that they were not made aware of these proceedings, this process appears to be a rushed one.
The speed of these proceedings is particularly unfortunate, in light of upcoming local elections; amalgamation of Colchester - North and South; the development of a County Official Plan, and new provincial regulations that will preserve the required amount of tree coverage at no less than 5%.
In addressing the needs of the county as a whole - Do we really need one more golf course at the expense of one less large woodlot?
The coalition urges everyone who consider themselves a friend of Marshfield Woods to join us on November 3, 1998 in Harrow at the Colchester South Municipal Building at 5:00 P.M. HELP US SAVE THIS WOODLOT; and HELP US STOP THE DESTRUCTION OF ESSEX COUNTY NATURE!
For more information contact:
Lisa Tulen: Citizens Environment Alliance, 973-1116
Dave Kraus: Essex County Field Naturalists, 733-9578
Paul Heeney: Project Green, 250-9370
Ian Naisbitt: Little River Enhancement Group, 735-2087/ 974-3450
Ken Cloutier: CAW Windsor Regional Environmental Council 944-0300
Dr. Tom Barnard: Essex County Medical Society and spokesperson for area residents 776-4716
Dr. John Spellman, U/Windsor 253-3000 x 2890