Windsor parks director wants to prepare the city's trees for climate change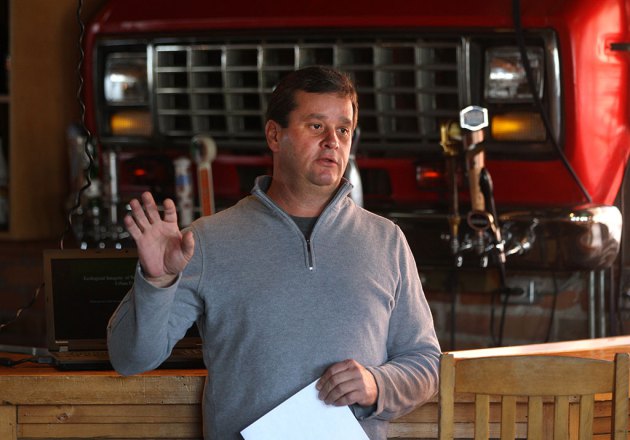 Phil Roberts, executive director of Parks at the City of Windsor gives a talk titled the Ecological Integrity of Windsor's Parks and Urban Forest during the Citizen's Environment Alliance's 2015 annual general meeting at Rock Bottom Bar and Grill, Saturday, March 28, 2015. (DAX MELMER/The Windsor Star)
By Jay Rankin, The Windsor Star, March 29, 2015
Windsor's new director of parks wants to prepare the city's green spaces for climate change by introducing new species of trees.
"If we're expecting temperatures to increase — as they have over the course of our winters and summers — we might want to be looking at species of trees to continue to introduce into our parks that will tolerate a slightly warmer climate," said Phil Roberts, who's been the city's executive director of parks for a month.
"The new approach would be looking at strategies to deal with urban climatic change," Roberts said.
Roberts explained this on Saturday at the AGM for the Citizens Environment Alliance, a Windsor environmental group with a 30-year history in the city.
"Climate change is moving a lot faster than the ability of species to adapt," said Derek Coronado, co-ordinator for the alliance.
"We're going to take a huge hit in terms of negative impacts on native species," Coronado said. "Just as it's important that we intervene to mitigate climate change, it's going to be important that we intervene to adapt."
To find the trees to introduce to Windsor's environment, Roberts said he's looking at the northern range of the Carolinas. Potential new species could include trees like the pawpaw and redbud.
"Look at the species you're planting there and how they're going to react now to potentially two- or three-degree warmer summers or winters," he said about choosing new flora.
Aside from choosing trees used to warmer climates, Roberts said it's also important to focus on diversity of trees to reduce the effect of natural phenomena which could wipe out a species. "When you have an impact like the Emerald Ash Borer, it's devastating," he said.
The Emerald Ash Borer was an invasive species of beetle introduced to North America more than a decade ago and has been causing devastation to southern Ontario ash trees ever since.
"We still haven't recovered from that," Coronado said.
Roberts said that because he and the city's current forester are new to the job, the plan to introduce different tree species to the Windsor environment is currently just in the talking stages. He said that in around six months, he'll probably have a more rooted plan.
twitter.com/_jay_rankin
© Copyright (c) The Windsor Star