Province identifies urban wetland, bans development in South Windsor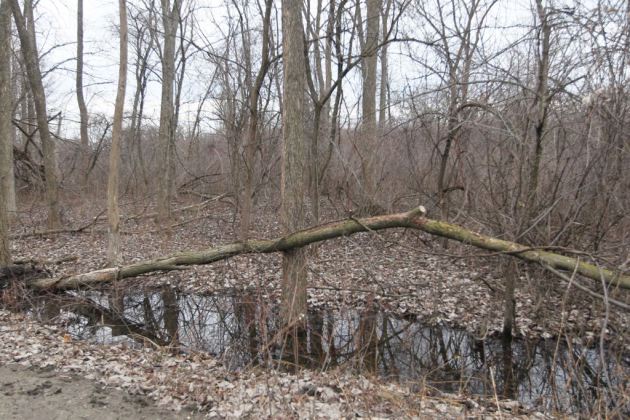 Grassy and wooded South Cameron lands were designated as a wetland last year by the province, preventing all development. (JASON KRYK/The Windsor Star)
By Doug Schmidt, The Windsor Star, March 27, 2015
A large expanse of grassy and wooded South Windsor lands long slated for future urban growth has been pulled by the province from the city's inventory of property permitted to be developed.
Much of the privately owned so-called "hole in the doughnut" that remains undeveloped was quietly given special status by Ontario's Ministry of Natural Resources and Forestry last year by being redesignated for protection.
"From time to time, MNRF will update its mapping — development is not permitted in a provincially significant wetland," city planner Thom Hunt told The Star.
Owners of those lands who have been waiting for better economic conditions to push ahead with development might be in for a surprise shortly.
According to a spokeswoman for the ministry, affected landowners within the South Cameron Wetland Complex should be notified this spring that their properties, or portions thereof, are contained within what has now been identified as a provincially significant wetland (PSW). Jolanta Kowalski, senior media relations officer with the Ministry of Natural Resources and Forestry, told The Star that the area had been evaluated by provincial staff in 2013 and designated in February 2014.
Hunt said the evaluation process by biologists and other scientists is entirely outside the municipality's jurisdiction. And while home construction and other development within a protected wetland is strictly taboo, adjacent lands are also subject to an environmental assessment by professionals prior to any potential development in order to identify whether such work might negatively impact the area designated for natural protection.
"The PSW designation eliminates options for development," said Tim Byrne, director of watershed management services with the Essex Region Conservation Authority. Hunt said his planning department is currently working on amendments to the city's official plan that will incorporate the provincial changes.
ERCA issued a "notice of violation" last week to a South Cameron property owner after authorities were alerted by the public to brush and tree-clearing activities on lands located south of Totten Street and west of Dominion Boulevard. Faced with potential penalties for unauthorized work, the clearing operations immediately ceased.
A sizable portion of the lands in question, part of an 8.5-acre parcel owned by Scott D'Amore and Patrick D'Amore in Trust, are contained within the South Cameron Wetland Complex, which is 126.5 acres in size. Added along the periphery of the jigsaw puzzle-shaped wetland are more than 60 acres of identified woodlands.
"There's an extremely high potential this property will not be able to support development," Byrne said.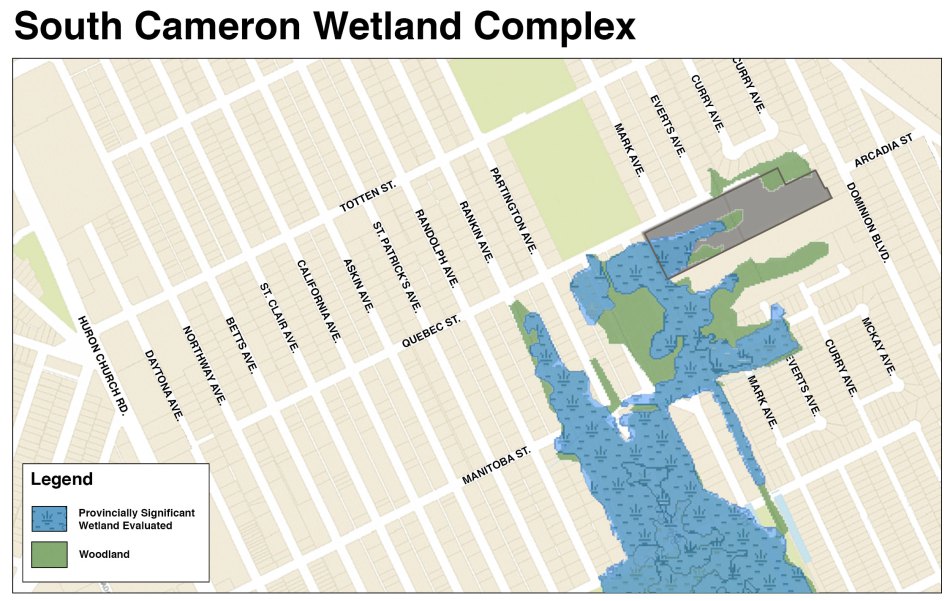 Grassy and wooded South Cameron lands were designated as a wetland last year by the province, preventing all development. (JASON KRYK/The Windsor Star)
In addition to the tight restrictions resulting from the wetland designation, any new development proposals for the area are also subject to an assessment and review under Ontario's Endangered Species Act.
"Development is now held to a much higher level of scrutiny," said Byrne. The so-called "hole in the doughnut" — dubbed as such due to its large circular green appearance in an area otherwise surrounded by urban development — has long been earmarked for residential development in city planning documents.
"The hole in the doughnut is one of the largest natural heritage features in Windsor," said Byrne.
While the city's current planning documents for the area are outdated and in the process of being revised to reflect the most up-to-date provincial legislation, Byrne and Hunt said it's up to the owners or developers themselves to ensure they are in compliance with all government regulations. Municipal zoning bylaws, said Byrne, "don't override provincial policy."
Part of the reason for the "hole in the doughnut," said Hunt, was due to the fragmented ownership of land in an area identified for urban development.
A 1998 city planning report envisioned an eventual 4,000 homes and 10,000 residents in the South Cameron Planning District, an area bounded by Totten Street in the north to E.C. Row Expressway in the south and Huron Church Road in the west to South Cameron Boulevard to the east. Growth began as developers started assembling smaller properties and then submitting subdivision plans.
But then came the worst recession to hit Windsor since the 1930s. Seven years later, the local economy is in recovery, but developers must now contend with tighter provincial regulations, including Ontario's Endangered Species Act, enacted in 2008.
"The new reality is, they're not going to be able to develop parts of their land," said Hunt. "The rules of engagement were different 35 years ago," said Byrne.
While the onus is on the property owner or proponent of development to follow the proper process and procedures, local authorities need to be a lot more proactive in preventing the accidental (or intentional) clearing of natural properties without proper approval, said Derek Coronado, co-ordinator of the Citizens Environment Alliance of Southwestern Ontario.
"This has to be communicated directly to the developers — there's not that many of them," said Coronado. He's also a member of the Windsor Essex County Environment Committee which, as recently as last fall, had called on city council to implement a tree-cutting bylaw that could be locally enforced.
As for Windsor's hole in the doughnut being designated a provincially significant wetland, Coronado said he's not surprised.
"Most of the woodlands in this region, if assessed, would meet the criteria," he said. And when it comes to Windsor's dwindling footprint of tree canopy and urban forests, Coronado added: "We're not on a sustainable path."
Scott D'Amore could not be reached for comment.
twitter.com/schmidtcity
© Copyright (c) The Windsor Star