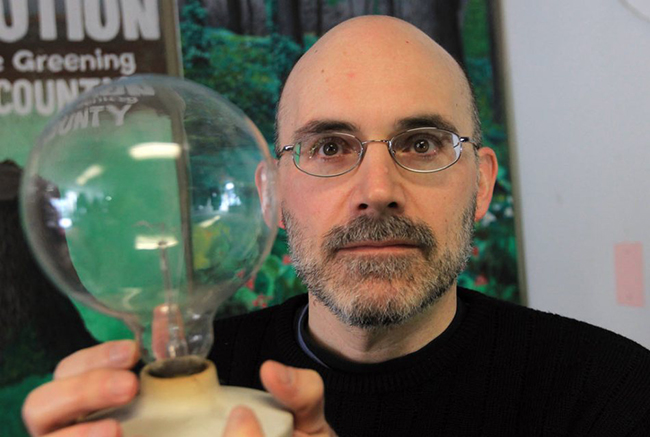 Derek Coronado of the Citizens Environment Alliance gets ready for Earth Hour. Photographed in Windsor, Ont. on Mar. 21, 2013. (Jason Kryk / The Windsor Star)
Is Earth Hour worth your time?
By Dalson Chen, The Windsor Star, Mar 22, 2013
At 8:30 p.m. Saturday, people all over the planet — and right here in Windsor — will be turning off their lights for 60 minutes in recognition of Earth Hour.
At least, that's what they've been asked to do. But what does this self-imposed blackout actually accomplish?
"It focuses attention on an issue and what people can do about it," says Derek Coronado of Windsor's Citizens Environment Alliance.
According to Coronado, the ultimate purpose of the event is to raise awareness and get people thinking about using less electricity in their daily lives.
"If you want to phrase it as a gesture, it's certainly a hopeful gesture. And it's a useful gesture," Coronado insisted.
Now seven years since it began in Sydney, Australia, the Earth Hour event has spread to 152 countries around the world, and has attracted plenty of institutional support.
Locally, the event can count the City of Windsor, EnWin Utilities, and numerous businesses among its endorsers — all of them urging citizens to "make a difference" by flipping their switches.
But as Earth Hour has risen in popularity, it has also become a target for criticism. More than one cynical pundit has opined that the event is a waste of time at best, and hypocritical at worst.
Most recently, Bjorn Lumborg of Slate Magazine has challenged the event as "vain symbolism" that reveals "exactly what is wrong with today's feel-good environmentalism."
For example, it's been pointed out that most candles — which many Earth Hour enthusiasts spark up during their 60-minute hiatus from electricity — are made of paraffin wax, which is derived from fossil fuels.
It's been further pointed out that burning multiple candles may result in more carbon emissions than leaving on the lights.
"I don't know about that. There's no requirement during Earth Hour that you burn paraffin wax. It's not suggested or recommended. It's an individual choice," Coronado said.
"To me, that's stretching it — Trying to come up with something to criticize. There's always some sort of criticism when you're trying to change the status quo."
Meanwhile, corporations such as Starbucks and McDonalds have been involved in cross-promotional Earth Hour advertising campaigns — further associating the event with consumerism and the carbon footprint that entails.
And there have also been accusations that Earth Hour is simply too easy: A token effort that's meaningless if it doesn't lead to widespread lifestyle change.
Rupp Carriveau, a University of Windsor engineering professor who specializes in clean energy technology, acknowledges that the event is mainly about symbolism and getting people's attention — and that's fine by him.
"For the purists — yes, I can understand the argument against it. But I still think that, in the big picture, it makes sense to unplug people for a while and have them think about it," Carriveau said.
Carriveau said he'd even support Earth Hour if it caused a 60-minute uptick in power consumption — if doing so would get and more people to consider the issue. "I still think it's worth it," he said. "Even if Earth Hour was about turning every light on, as long as people plug in a little more mentally — that's the critical thing."
And according to EnWin Utilities spokeswoman Barbara Peirce Marshall, Earth Hour does have a quantifiable benefit to the environment: Last year's one-hour event in Windsor-Essex saved approximately 8.5 megawatts — enough to power about 2,000 homes for 60 minutes.
"That's a measurable amount of energy," Marshall said. "To live with the amount of power that we can currently generate is a very important concept."
Aaron Fisk, a professor with the Great Lakes Institute of Environmental Research who has studied climate change in the Arctic, also feels the positives of Earth Hour outweigh the complaints.
"I think it keeps (these issues) in the front of our brain. I think anything like that is a good thing," Fisk said.
© Copyright (c) The Windsor Star