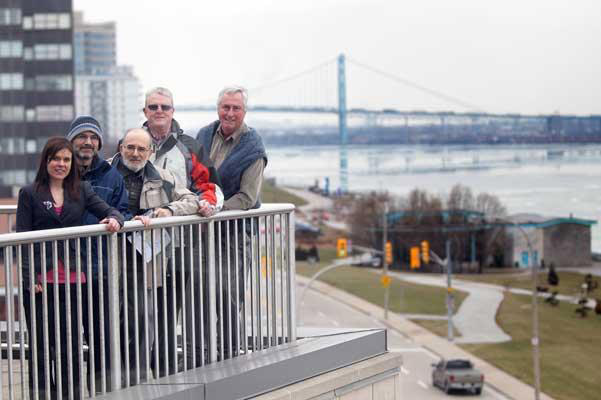 Natalie Green, left, Derek Coronado, Ric Coronado, Ian Nesbitt and Doug Haffner look out to the Detroit River following a press conference on the Canadian Cleanup Remedial Action Plan Milestone, at the Art Gallery of Windsor on Wednesday, Jan. 25, 2012. Photograph by: Jason Kryk, The Windsor Star
Detroit River cleanup sees progress, hurdles
By Dave Battagello, The Windsor Star, January 26, 2012
WINDSOR, Ont. -- The cleanup of the Detroit River has made great progress, but there is still a long way to go, say environmentalists.
The Detroit River Canadian Cleanup committee — a partnership of 20 organizations — celebrated its projects to improve the waterway Thursday at the art gallery and released its Stage 2 blueprint of options to consider for the next round of improvements.
"Twenty-five years ago, the Detroit River was one of the most polluted bodies of water in North America," said Doug Haffner, senior Canada research chairman for the Great Lakes Institute for Environmental Research. "Today, we know that's not true."
But as wonderful as the fish spawning, watershed protection and cleanup projects have been, a true dent cannot be made until the biggest polluters — U.S. Steel on Zug Island, the Detroit Sewage treatment plant and several coal-fired plants on both sides of the border — clean up their act, said environmental experts who attended the event.
Industrial mercury and toxins continues to plague the river's overall health, they said.
Pollution elimination technology is there and those sources can be controlled Haffner believes — but at a cost of about $20 billion.
"What we are seeing now is with remedial action on this river it will respond in a very positive way," he said. "We know the technology is there, we just need to keep pushing forward and make it a priority."
He said the Obama administration has made billions of dollars available for Great Lakes protection and improvements.
"The State of Michigan is financially challenged, but the researchers and engineers are there," Haffner said. "Now it's a matter of will directing the funding. The technology is available, the money needs to be available."
Local environmentalist Derek Coronado agreed it can be done.
"What we have been fighting over the last two decades is against (industry) preventing regulations from imposing that technology due to the economy," said Coronado of the Citizens Environment Alliance. "As much as you've seen in the efforts to improve the Detroit River, it's just the tip of the iceberg. There is a long way to go."
One huge step in the U.S. is approval for the first time a new national standard for reduction of mercury, he said.
"It was court ordered and has been a long fight," Coronado said.
"We know the largest contributors (of mercury) have been coal-fired power plants. These companies don't sped the money to retrofit their facilities. Some don't have any controls at all and will now face being shut down because of these regulations."
© Copyright (c) The Windsor Star