---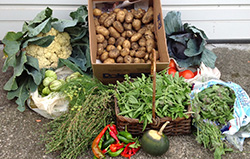 Ontario Needs A Strong Food and Organic Waste Action Plan
January 2018
As part of Ontario's Strategy For A Waste-Free Ontario, the Citizens Environment Alliance and several other environmental groups have proposed an environmentally sound food and organic waste strategy for Ontario.  This statement was prepared in response to the province's proposal entitled Proposed Food and Organic Waste Framework.
View comments to Food and Organic Waste Framework.
---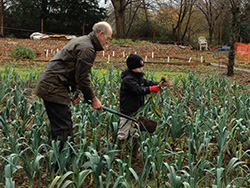 Ontario Needs Environmental Bill of Rights Reform
November 2017
Ontario's ongoing inaction on Environmental Bill of Rights Reform has prompted 48 environmental groups to send a joint letter to Premier Wynne and opposition leaders. A summary of recommendations for reform was included in the letter.

View Summary of Recommendations for Reform.
View joint letter.
---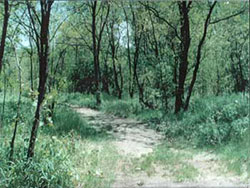 Ojibway Shores an Ecological Superstar
September 2017
A recent, comprehensive analysis of Ojibway Shores has revealed the site to be a natural heritage gem.  Of the 10 criteria used in the analysis, achieving 1 of 10 criteria indicates important natural heritage significance, Ojibway Shores met 9 of 10 criteria!  There is no doubt that preserving Ojibway Shores as a natural heritage site would have important environmental benefits for the Detroit River watershed. Thanks to the Essex County Field Naturalists for supervising this research project and providing the data, along with partners, for publication and public review.
Review the report and maps: Ojibway Shores Natural Heritage Inventory/Evaluation
Ojibway Shores Provincially Significant Wetland Map
2016 Ojibway Shores ELC Map
---
Toxic Chemicals in the Great Lakes
August 2017
What is being done about toxic chemicals in the Great Lakes? Under the U.S.-Canada Great Lakes Water Quality Agreement, the U.S. and Canada have agreed to focus their combined efforts on some chemicals known as Chemicals of Mutual Concern.  Recently, the CEA, Canadian Environmental Law Association and National Wildlife Federation wrote to the governments with our concerns about proposed strategies for mitigation of two chemicals of mutual concern. Read the submission.
---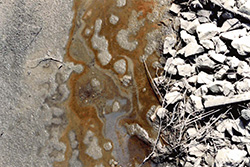 Reducing Stormwater Runoff
July 2017
Reducing stormwater runoff and its associated water pollution is important in the Great Lakes basin, even more so as climate change takes hold in the region. Recently the CEA, as a member of Green Infrastructure Ontario, submitted our comments about Ontario's proposed Low Impact Development Stormwater Management Guidance Manual. Read more
---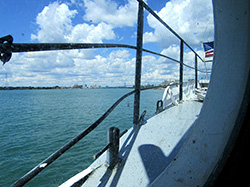 CEA State of the Detroit River Boat Tour 2017
Thanks to everyone who attended this year's successful boat tour. Special thanks to our guest speakers Ted Briggs, Doug Haffner and Phil Roberts.
Photos of this year's tour can be viewed on our boat tours webpage.
---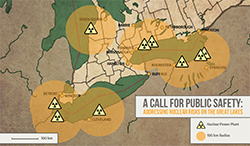 Call for Public Safety
June 2017
The Citizens Environment Alliance and over 40 other public interest groups have requested that the Ontario government create a world class, province-wide nuclear emergency plan. View PDF.
---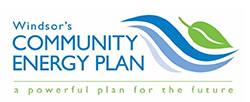 Windsor's Proposed Community Energy Plan
May 2017
Windsor's draft Community Energy Plan was developed over 18 months by a diverse number of individuals and groups, including the CEA. Find out more about Windsor's Community Energy Plan. Watch the YouTube video.
---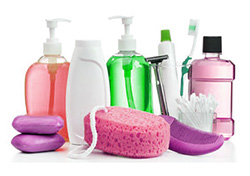 Prohibition of Triclosan in Consumer Products
February 2017
The CEA and other environment and health groups have requested that the Canadian government prohibit triclosan in all consumer products to protect the environment and human health. Read the submission.
---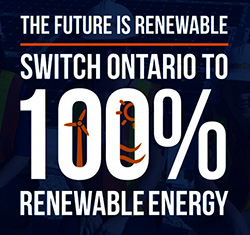 Switch Ontario to 100% Renewable Energy
October 2016
The CEA and more than a dozen other organizations have launched a campaign to switch Ontario to 100% renewable energy. Ontario should commit to 100% renewable energy to fight climate change, lower our energy bills, empower our communities and eliminate the risks and radioactive waste produced by nuclear reactors. Join us at 100 reontario to stay informed and get involved.
---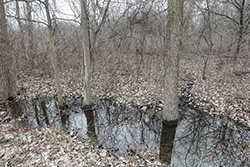 Options for Improving Conservation Authorities in Ontario
September 2016
The CEA, in collaboration with several organizations that support integrated watershed management in Ontario, has submitted the following comments. The submission is in response to Ontario's proposal for renewal of the Conservation Authorities Act.
Among the proposals, we recommend there be a legislated set of principles used in fulfilling the purpose of the Act and that diverse representation on the governing boards of conservation authorities be ensured.
---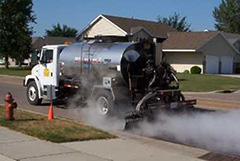 Coal-tar Sealcoats Major Source of PAH Contamination in Great Lakes Basin
Coal-tar sealcoats are sprayed or brushed on asphalt parking lots, driveways and roads every few years to protect against weather, extend their life and improve appearance. These sealcoats are a significant source of Polycyclic Aromatic Hydrocarbons (PAHs), a known human carcinogen. PAHs are widespread in the Great Lakes basin. Studies have shown that as much as 50-75% of PAH contamination found in the sediment throughout the Great Lakes region comes directly from coal-tar sealcoats.
August 2016
Environment and Climate Change Canada (ECCC) published a draft screening assessment report and risk management scope document for coal tars and their distillates under the Chemicals Management Plan earlier this year. ECCC is recommending these substances be designated toxic through the Canadian Environmental Protection Act, 1999. The CEA agrees and suggests banning some coal tar applications completely, read our submission: Coal Tars and Their Distillates.
The CEA has partnered with Freshwater Future to raise awareness about this environmental pollutant and how to reduce its environmental impact. Find out more about the hazards of coar-tar sealcoats here.
---

Clean Economy Alliance
The Clean Economy Alliance is a group of over 50 organizations (including Citizens Environment Alliance) representing a broad cross-section of Ontarians that have united to urge Ontario to show leadership in addressing the crucial issue of climate change. As members of the Clean Economy Alliance we have agreed to six principles that should guide Ontario's climate change strategy and action plan. View Clean Economy Alliance website.
____________________
The CEA, through the partnership with the Clean Economy Alliance, is supportive of Ontario's commitment to price carbon through a cap-and-trade program. However, the proposed Climate Change Mitigation and Low-Carbon Economy Act needs to be improved in order to ensure that the program is effective, predictable, stringent, transparent, fair and durable. Read our submission to the Ontario MOECC.
____________________
The following submission (see link below) provides the Clean Economy Alliance's response to Ontario's proposed Cap-and-Trade Design Options document. The submission includes general comments, as well as more specific responses to questions posed in the design options paper. Read Clean Economy Alliance submission
---